Are you using the steel in your business? For trading or manufacturing?
Are you searching for Investment Opportunities?
Are you interested in getting best deals from Turkey?

TOP 22 TURKISH STEEL EXPORTER'S ARE IN KUWAIT:

Have your own Face-to-Face Meeting with the DECISION MAKERS of the Top Turkish Steel Exporters'.
Make your special deals, partnerships, investment, directly without mediators.
Don't miss out in attending our matching B2B meetings on 18th November 2015.
General Product Line of Turkish Delegation;
BILLET, SLAB, BAR AND RODS, WIRE ROD, REBAR, SECTIONS, ANGLES AND PROFILE, WIRE, SEAMLESS TUBES AND PIPES, WELDED TUBES AND PIPES, PIPE FITTINGS, COATED AND PLATED FLAT, HOT ROLLED FLAT, COLD ROLLED FLAT, SCREWS, NUTS AND BOLTS, NAIL, CHAIN, NETTING, FENCING, CLOTH AND GRILLS, STRUCTURAL STEEL, CONSTRUCTION APPLIANCES, HIGHWAY SAFETY SISTEMS, LIGHTING POLE, NOISE BARRIERS, ELECTRICAL PANEL, STEEL SHELF SYSTEMS, PREFABRICATED BUILDINGS, WIREWAYS, VALVES, PANEL RADIATOR.
Range of Products
Main Products: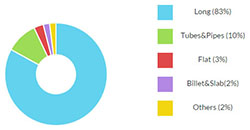 Flat Sub Products:

Long Sub Products:

Other Sub Products:

WHY TURKISH STEEL?

PROXIMITY TO MARKETS.
GREENER STEEL.
PRODUCTION CAPACITY.
MODERN INFRASTRUCTURE.
PRODUCT QUALITY.
COMPETITIVE PRICING.
EXPERIENCED & SKILLED WORKFORCE.
LATEST TECHNOLOGIES.